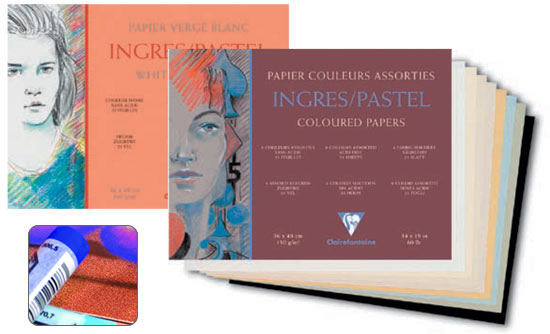 This is a review of the White Laid Paper, shown in the background of the image above. I've previously reviewed the Ingres/Pastel in the assorted colors,
here
and I find these two products to be very, very different.
The assorted paper has more texture than the white, and in fact, the white is actually quite smooth on the front side, and laid on the reverse. While I understand that this is a product meant to be used with pastels, I've found that I love it so much with pen/ink and marker, that I haven't even gotten around to trying it with anything else. The color just POPS on this paper.
It's off white, (which I love) and reminds me a great deal of the paper found in the
Exacompta Sketch Journal.
I like that it's in a pad form, and that the cover folds back. When I work on my mandalas, I especially like a paper product that's flat - one that I can easily spin around to work the concentric designs.
Black Faber Castell Pitt Artist Pen and Pitt Brush Pens.
For this one, I used an
Herbin Glass Dip Pen
and Diamine Maroon Fountain Pen ink.
Black Faber Castell Pitt Artist Pen and Pitt Brush Pens.
Black Faber Castell Pitt Artist Pen and Pitt Brush Pens.
The paper is designed to be used with pastel, charcoal & pencil
* 130 g laid paper (60lb)
* High sensitivity to delicate shades of color
* 25 sheet pad glued on top
White – slight ivory tinge – light-reflecting properties
Pad 9 ½ x 12" Ref C96482
Pad 12 x 15 ½" Ref C96483
Buy this paper at
Pen City.
* Update 10/26/09 The Exaclair catalog says that this is a 25 sheet pad and is glued on top. That is true for the 9x12 but not the 12x15. The 12x15 pad is glued on all four sides like a watercolor block. And like a watercolor block, there is an unglued space about an inch and a half wide on the top of the block. The way you typically remove paper from a block such as this is to insert a razor blade or knife between the top sheet and the next piece on the block and run the blade around to cut it from the block. I sometimes have trouble doing this with thick watercolor paper in which I scrape the page below or tear the piece I am trying to remove. With the Ingres paper being substantially thinner than typical watercolor paper, I have having one HECK of a time removing one sheet from the next. It could be due to lack of patience, but I've scraped several pages and the last time I removed a piece, it was impossible for me to get the knife between the top sheet and the block and I removed two pieces instead. They will now be difficult to separate and there are only 25 pieces in a pad..... I have voiced this concern to Exaclair and will also try to be more patient when removing a sheet from a block. I used to use a thin knife but will dig out an Exacto blade and see if that produces better results.