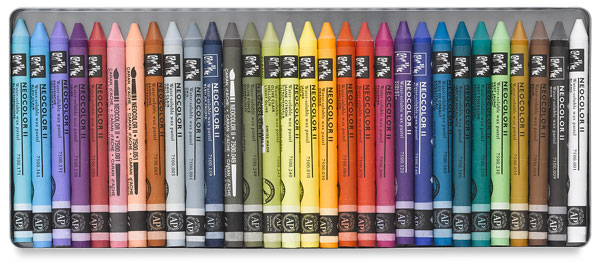 From the
Blick
website:
"The quality of Neocolor II Aquarelle Artists' Crayons is universally acknowledged. Their excellent lightfastness, their high pigment concentration, and their adaptability to several techniques have helped to put them in a class of their own.
Neocolor II crayons are softer than colored pencils, denser than children's wax crayons, and extremely responsive to a wet brush. Wet and dry techniques can be combined in the same drawing. Because of their strong pigmentation, light colors cover dark colors and vice-versa.
Try the sgraffito technique by scraping off one or more color layers to create an engraved effect. Neocolors are soft enough to smudge with fingertips, yet they are much firmer than oil pastels. Best of all, they are water-soluble.
Individual crayons measure 105 mm in length and 10 mm in diameter (4-1/8" × 5/16")."
My local Blick store sells the Neocolor II's as open stock, and when I was looking for media to use on black paper, an associate at the store pointed them out to me. My initial purchase was for just two of the crayons, but once I got home and found how well they worked on the dark paper, I went back and bought a set of 30.
The crayons are highly pigmented and do not contain the high amount of wax like a typical children's crayon. Most of the colors are extremely vibrant when used on black paper. (My favorite black paper is the
Canson Mi-Teintes.
)
One of the things that I like the best about these crayons is that they don't smudge in the way an oil pastel would. So if you are an art slob like me, you won't end up smooshing your art all over the paper. On the other hand, this also means that you cannot blend the colors like you can with an oil pastel.
The Neocolor II's are watersoluble, which means that you can apply water and they will act like watercolor paint. I created the image above by wetting the tip of the crayon with a Niji Waterbrush. (which applies the "paint" to the brush) and then putting the brush to the paper.
You can also draw on paper with them and then wash over it with a brush, but I've never really been able to get pleasing results that way. It's hard to tell if you've applied too much crayon on the paper before wetting it, and your results may not be as intended.
You can also dip the tip of the crayon in water, and draw with it like that, keeping in mind that this method will probably make you use more of the crayon than any other method.
In my experience, I haven't been able to utilize these quite the same as watercolor paints. The colors seem to sit well with and on top of another, but blending seems to be a little different than when using an artist quality watercolor paint. Admittedly, I did not buy them to be used in that fashion, and I have not taken a great deal of time to explore them in that manner.
I sometimes struggle with media that can be used in multiple ways, like watercolor pencils. It's almost like you have to master two forms of media to get pleasing results. I'm personally quite happy using the Neocolor II's as an "adult" crayon. Caran D' Ache also makes a water-resistant Neocolor I but I have not yet tried them.
I've used them straight on white paper, but I still prefer using them on the darker paper. The colors just POP on black.
Blick sells the Neocolor II's in varying quantities. Check them out
Here